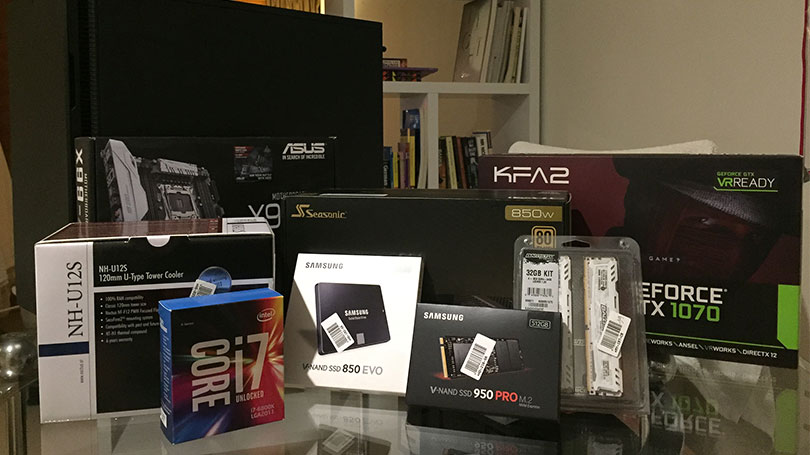 Tools matter. And when there isn't a ready made tool for the job you have to make your own. Enter the ultimate desktop build.
I've been doing a lot of programming with Xamarin for the last year or so and it was killing my laptop. Looking around for a replacement I wasn't particularly happy with the choices out there. They were either under powered, over priced or had outdated hardware. Finding a development laptop is hard. Whilst you loose the portability factor with a desktop, building one means you can configure it to your needs and it's kinda fun too.
TL;DR
I'm really happy with my desktop build. It's excellent for work and my gaming needs. The case looks great and is a joy to build with. Having a desktop that is capable of the tasks you need to do for your job allows you to get on and get productive. I love it!
Specifications
Here's the parts list.
Fractal Design Define R5 Black ATX Midtower Silent PC Computer Case

A well designed case inside and out. An understated Scandinavian design with sound-absorbing material. It's highly configurable which makes it easy to work in and means you can get creative with your build!

Intel Core i7 6800 K 3.40 GHz LGA2011 V3 15MB Cache High End Desktop Processor CPU - Black

Part of Intel's Broadwell-E CPU range. The i7-6800K features six CPU cores (12 threads) and 28 PCIe lanes. Out of the chips in the range I consider this to be the sweet spot, the prices increase dramatically and aren't worth it for the extra performance.

Asus X99-A/U3.1 ATX USB 3.0 Motherboard

Reasonably priced and full of features, you get a lot for your money with this board. It even has Asus's Aura RGB lighting system, so you can make it look all pretty. It doesn't come with built in wifi or Bluetooth. If that is a requirement for you either get a card or go for the PRO or DELUXE model.

Noctua NH-U12S - PC (Fan Cooler, Processor, 12 cm, Brown, Stainless Steel, 0.6 W, 12 V)

You want two things from a fan cooler, performance and quietness. This cooler does both exceptionally well.

Nvidia Geforce GTX 1070

Ok, this is not a necessary component for a development machine. But well I really wanted to try the new 10 series for some light gaming with the opportunity to enter the world of VR. On a price performance comparison I found the 1070 to be the sweet spot, but I guess the hardcore gamer would probably go for the 1080.

Ballistix Sport LT 32GB Kit (8GBx4) DDR4 2400 MT/s (PC4-19200) DIMM 288-Pin Memory - BLS4C8G4D240FSC (White)

DDR4 memory FTW. The motherboard can take up to 128Gb, but for now 32Gb is sufficient for my programming needs. Crucial are well respected in the memory field so you can expect reliable and performant products.

Samsung 950 PRO NVMe M.2 512 GB Solid State Drive - Black

The OS drive. Top performance and great read/write speeds. These are the best around, until a faster one comes out.

Samsung 850 EVO 500 GB 2.5 inch Solid State Drive

Data drive. Solid and reliable, options for encryption too. Five-year warranty? Don't mind if I do.

Seasonic X850 850W 80+ Gold Certified Full Modular Power Supply

The PSU is often the neglected component in a build. A good power supply is worth spending the money on and will last for years. Seasonic have a great reputation, granted this PSU is over powered for my needs but the price difference for a lower wattage was minimal so went with this one.