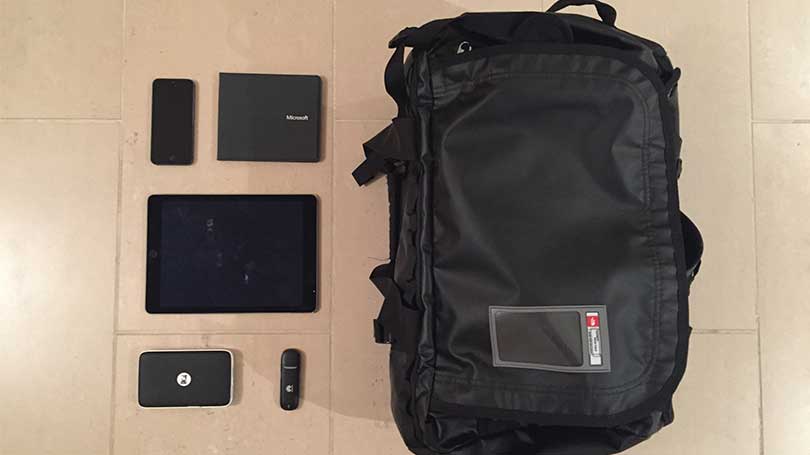 In this day and age tech on a holiday, adventure or road trip is as essential as a clean pair of pants. Here are the items that I never travel without.
iPhone
Fairly obvious this one. iPhone is my smartphone of choice and I'll never be on a trip without it. Travelling with a smartphone doesn't mean huge data costs at the end of the trip. Be smart, download the apps you need before you go and get ones that work offline. There are plenty of them out there whether it be maps, satnav, guides, translators etc. Suddenly your phone is your best travel buddy.
iPad
With the rise of the phablets, I'm sure many would argue an iPad is no longer an essential. The honeymoon is not over for me yet and my iPad is still clocking up the air miles (I'm writing this post on it on a train). So what does it bring to the table? For me I use it for any kind of writing that I might want to do, watching videos, reading books, going over photos from the trip so far. I value the screen real estate and battery life, so won't be without it.
Mobile storage and then some
This baby is my tech equivalent of a Swiss Army knife. It's a storage device, a wireless router, a smartphone charger, a media streamer (for multiple users, perfect for families), a media card reader and a wireless access point. It literally does everything you could want it to. I load it with movies, backup photos to it, charge from it, it's really great. For the security conscious you can even keep it in your hotel room safe (some safes have plug sockets), and wirelessly backup your photos at the end of each day.
I roll with the Kingston MobileLite Wireless G2. There are others out there but this serves me well.
Mobile dongle
Want to use the internet but want to avoid those expensive data charges? This is when a USB mobile dongle is an essential. Either buy a sim in the country you are visiting or take one that allows data usage at no extra cost. I use the UK provider Three and their PAYG mobile broadband sim. Plug the dongle into your wireless access point (see the previous essential item) and the internet wherever you go.
Bluetooth keyboard
I always thought of a keyboard as an optional item, but I'm rarely without it on a trip. Typing on a touchscreen isn't a bad experience but if you're someone who types a lot, whether it be for work, your blog or journal, you can't beat a keyboard. There are all types of portable keyboards out there, I prefer to use a Bluetooth keyboard that I can pair with multiple devices so I can use it with Windows, Android or iOS. Two of my favourites both happen to be Microsoft keyboards; The Universal Mobile Keyboard and the Universal Foldable Keyboard. Both great products and travel friendly.
Something to carry it all in
Not a tech item, but a good bag is priceless. Once you found it you never need anything else. I've found mine and it's The North Face Base Camp Duffel Bag. This is an excellent bag. It's robust, versatile and you can squeeze so much into it. Wear it as a backpack, over the shoulder or carry it. One bag to rule them all, your perfect travel companion.
Have I missed anything you consider to be a tech essential? Tweet me your must haves @iambacon.